Get Drunk! What is your Beer of Choice in Vietnam?
Vietnam is one of the highest beer consumption country in the world since the alcoholic beverages introduced in the country at early 1900s. According to a recent research by Euromonitor International, Vietnam's beer consumption on 2011 was 2.6 billion liter which is the highest in South East Asia followed by Thailand 1.8 billion and The Philippine.
Lets get to know more about beers in town.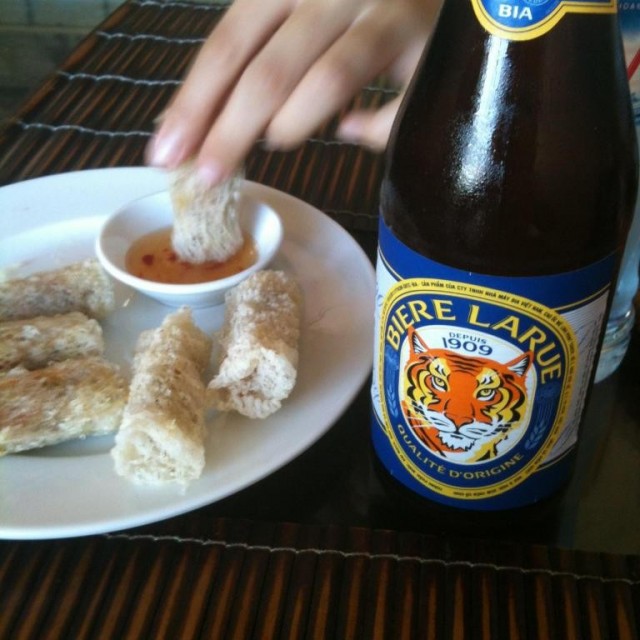 Name: Beer Larue Superior

Brewer:

Da Nang Brewery (Asia Pacific Breweries - Heineken)

Original from: Da Nang City

Alcohol Level: 3.8%

Calories: 114
Name: Huda Beer

Brewer: Hue Brewery (Carlsberg)

Original from: Hue City

Alcohol Level: 4.7%

Calories: 141
Name: Biere Larue Export

Brewer: Da Nang Brewery (Asia Pacific Breweries - Heineken)

Original from: Da Nang City

Alcohol Level: 4.5%

Calories: 134
Name: Saigon Export

Brewer: Sabeco

Original from: Ho Chi minh City

Alcohol Level: 4.9%

Calories: 147
Name: Sabeco 333 Export

Brewer: Sabeco

Original from: Ho Chi minh City

Alcohol Level: 4.9%

Calories: 147
Name: Bia Hanoi

Brewer: Habeco (Hanoi Alcohol Beer & Beverages Company)

Original from: Hanoi

Alcohol Level: 4.2%

Calories: 126
Name: Bia Saigon Lager

Brewer: Sabeco

Original from: Ho Chi minh City

Alcohol Level: 4.3%

Calories: 129
Name: Bia Saigon Special

Brewer: Sabeco

Original from: Ho Chi minh City

Alcohol Level: 4.3%

Calories: 129
Name: Dai Viet Bia Vang

Brewer: Huong Sen Brewery

Original from: Thai Binh City

Alcohol Level: 5.2%

Calories: 156
Name: Gold Ben Thanh

Brewer: Tan Hiep Phat Co. Ltd

Original from: Vinh Phu, Thuan An, Binh Duong Province

Alcohol Level: 4.7%

Calories: 141
Name: Zorok

Brewer: SABMiller Vietnam

Original from: Binh Duong Province

Alcohol Level: 5%

Calories: 150
Name: Hanoi Beer

Brewer: Habeco (Hanoi Alcohol Beer & Beverages Company)

Original from: Hanoi

Alcohol Level: 5.1%

Calories: 153
Name: Halida Premium Lager Beer)

Brewer: South East Asia Brewery (Carlsberg)

Original from: Hanoi

Alcohol Level: 4.5%

Calories: 135