Wondering in Pekan Kuah, Langkawi Island, Malaysia
Kuah still has the charisma of a quiet Malaysian town back in the 1970s. Most of items sold in Kuah town are cheaper than other places in Langkawi Island. I will personally recommend you to do your shopping in Kuah town before doing your shopping somewhere else later. So, if you choose to shop in Kuah at the end of your trip, you will realize the items that you have bought are 20% cheaper in this town.
Bird Eye View of Kuah Township
Besides, Kuah has a lot of fabulous restaurant for dine out especially in the evening. There are many seafood restaurants which is cheaper than the one at Pantai Cenang and Pantai Tengah. There are many Chinese Restaurants in Kuah too and you can find beer as low as RM2.50 or USD0.80.
The Eagle Statue at Eagle Square
Visitors also can take a late afternoon walk to observe local culture and activities besides visiting Legenda Park and Eagle Square for photo snapping.
Langkawi Parade/Jetty Point/Langkawi Fair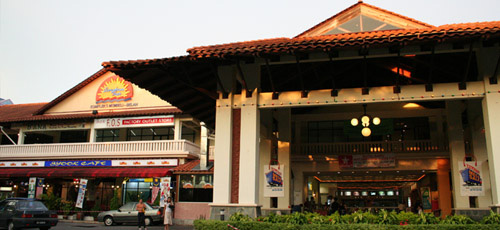 Langkawi Fair Shopping Mall
If you are expected a high end mall like in Kuala Lumpur or Penang, these are not the place. But these malls are the best place for you to buy clothes, shoes, jewelleries and souvenirs with discounted price. Langkawi Fair maybe the most popular among those three with wide selections of unique gifts, souvenirs and clothing for low budget or upscale shoppers.
Pandak Mayah – Banking District of Langkawi Island
The chocolate shops in Pandak Mayah shopping district with duty free prices
Banking district in Kuah is slightly different compared to other banking districts in Malaysia. Basically, there are nothing high end besides some Third World urbanisation charms of Langkawi Island. You also can get many items such as chocolates, suitcases, cheap tableware, cashew nuts, dried fish and suitcases with cheaper prices than the other parts of the island.
There are some non-halal Chinese food courts near the intersection (before the bridge at Langkawi Baron Hotel) named Water Garden and another one is Langkawi Sunrise. There are some other food Chinese food courts within the district too.
Plaza Langkawi
Plaza Langkawi
This building might look big at first sight, but actually they only have 3 floors of shops mostly selling textiles and traditional medicine. You can find Gamat Oil, Thai and Malay style shirts, caftans and some batik cloth at pretty much the lowest prices on the island.
Langkawi Mall
Most of local will come to this mall for foods and the prices are mostly very cheap. There is a famous Wan Thai Restaurant located here besides Malay restaurants which selling mixes rice during day time. There are some Chinese restaurants which facing to the main road which opens until late. You also can go to Kamdar textiles store which situated at east end of the mall for some Indian-style clothing at bargain prices.
Persiaran Mutiara Road
One of the famous eating out place at Persiaran Mutiara Road
This road is positioned in front of the Bella Vista Hotel and there are some popular seafood restaurants which open at night only. Perhaps they don't have any fancy décor with flimsy tables, plastic chairs, the good foods at low price attracted local and tourist customers besides enjoying cheap beers. This eating district also called at Trimula.
Pekan Rabu
Located next to Al-Hana Mosque, Pekan Rabu is an upcoming shopping and dining district in Langkawi. Most of restaurants and cafes will be open by this year and expected to be the best place for casual dining in Langkawi.