Sinh Tố – Saigon - Street Food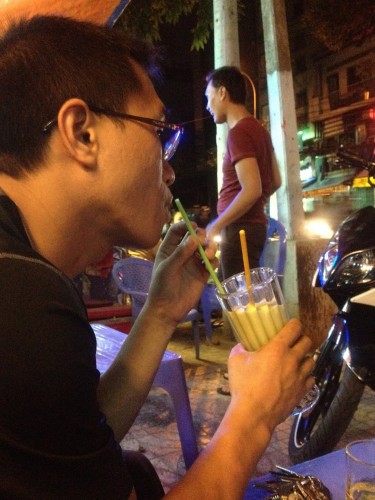 Another gay-friendly street venue
serves up yummy sinh tô (fruit shakes)
Looking for a relaxing place to sit, to watch the world (or at least Saigon's street life) go by, and to enjoy perhaps Saigon's best
sinh tố
(fruit shake, smoothie)? So were Hai and I recently after enjoying some Saigon street food in District 3.
We weren't quite ready to call it a night and head home. On the other hand, we weren't quite up for a loud karaoke bar, or joining the mad motorbike traffic cruising around town. And amazingly, we had had our fill of Saigon's yummy ice cream treats (that did pass after 24 hours and we were back pursuing hot fudge sundays at Swensen's the following evening) … but I digress!
I had the answer to our"Where to chill out?" question. Let's go grab a comfortable lawn chair and relax for 30 minutes over a sinh tố dâu cà rốt (strawberry/carrot blended smoothie) at our recently-found, new- favorite sinh tố street vendor.
Now, I haven't yet actually identified, nor even seen a name sign for this vendor. But more and more folk seem to be finding their way here even without knowing its name. A mobile sinh tố production kitchen, a dozen or so tables with comfortable lawn chairs, two friendly young men blending up some of the best fruit shakes in the city, and a relaxing "feel" to the place that seems welcoming to all.
On the last evening that we went to this place, there was one group of a dozen friends sharing work stories. In addition, there were a number of same-sex and mixed-sex couples, romantically chatting away over their glasses of blended fruit shakes and crushed-ice-covered fresh fruit plates. Clearly, another gay-friendly Saigon street food venue was emerging in town!
Avocado and Dragonfruit Fruit Shakes – YUM!
And, as a bonus, we all had a birds-eye view of the Saigon street food vendors as they strolled down Võ Văn Tần street. With the simple waive of the hand, we could have a local treat delivered to our table to enjoy with our fruit shakes. Hai wasn't able to resist the vendor offering dried bbq squid with chili sauce. I COULD!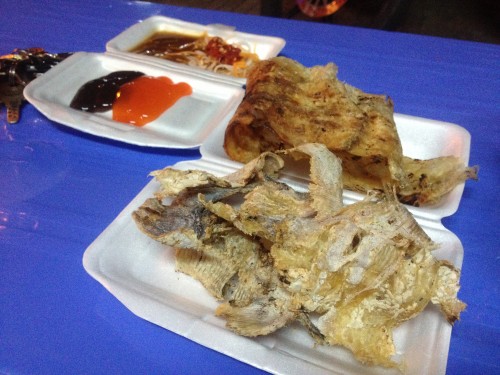 This place is serving SInh To from 3.00pm until 1.00am daily
Vo Van Tan Street, District 3
Ho Chi Minh City, Vietnam
"One and the 1/2 block from Cach Mang Thang Tam street
Directly across the street from 211 - 213 Vo Van Tan street"